Dear Skerrycruiser Enthusiasts,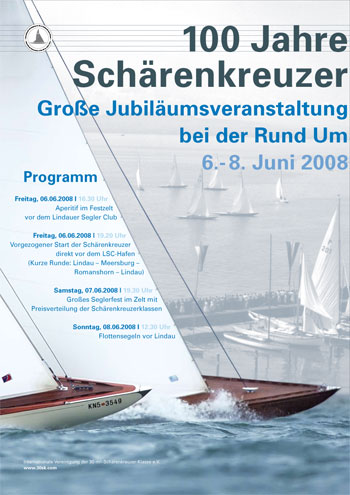 in addition to the already announced celebrities in Saltsjöbaden there will be a special event in Germany as well: just before the start of the so called "Rund Um", a very famous night race round the Lake of Constance starting in Lindau, Germany, there will be a unique starting procedure for all skerrycruisers (up to now: more than 40) directly at the pier in front of one of the oldest sailing clubs in Germany,  the Lindauer Segelclub LSC. Before the start there will be an aperitif in the dedicated festival tent and after a shortened race for the skerrycruisers we will celebrate "100 years of The Rule" in the tent on Saturday evening.
The event starts on Friday, June 6th, at 1630 (Apéritif), start of the race for the skerrycruisers follows at 1920.
You will find a detailed agenda here: 
100_jahre_schärenkreuzer_-_jubiläumsregatta_zur_rund_um_2008_6.-8._juni_auf_dem_bodensee_web

Feel free to forward the invitaion as printed version, e-mail or literally.

Registration forms and further information can be obtained from This email address is being protected from spambots. You need JavaScript enabled to view it., a high quality version of the poster as well (electronically or as print out).
We look forward to this event open to all skerrycruisers - from 15ers to 159ers - regardless of any club affiliation. Organizer is the "Internationale Klassenvereinigung der 30-m2-Schärenkreuzerklasse e.V.", and we are hapy to support them with his event. 

Yours SESCA / NSK

20. Mai 2008